This post may contain affiliate links, which means I will receive a commission if you purchase through my link, at no extra cost to you. Please read my full disclaimer. I do not own any photos.
Super cute Shein Summer Dresses you need in your closet!
Dresses and summer just go hand in hand. I find myself always wearing a dress in the summertime. They are super cute and they keep you nice and cool during the hot summer months.
If you're looking for dresses to buy for this summer, you have to check out Shein! They have thousands of dresses that come in a variety of colors, styles, patterns, and lengths. Not to mention they are extremely affordable. I can't imagine not being able to find a dress on Shein.
Just a reminder that the quality of Shein's clothing can be hit or miss so always read the reviews and look at the photo reviews before you submit your order.
I put together an amazing list of the best Shein summer dresses that we are obsessed with!
This post is all about Cute Shein summer dresses 2022.
Army green criss cross dress
This color is everything! I love the criss cross top in the front which I feel like is usually in the back of the dress.
Daisy slit dress
This style of dress is one of my favorites! It is so feminine yet sexy with the slit in the thigh.
Floral backless ruffles
I love a girly floral dress and this open back is so cute!
White lace cut out
This dress is giving me cottage core vibes.
Pink flowy dress
One of my favorite Shein summer dresses! I love how flowy it is and this pink color is on trend.
Tie dye halter
This dress is a total flashback to Y2K style.
Floral backless
This is such a pretty floral print! Perfect for a picnic like the model is doing!
Crochet halter
Crochet dresses are so trendy right now! Loving this color combination too.
Floral lettuce trim
Super cute classic summer dress!
Plunging neck
I love the contrast of the plunging neckline and the long bell sleeves. And the watercolor floral print is everything!
Tied up halter
I have this dress is blue and it is so cute! It is super ditsy and feminine and I feel like I should be frolicking in a field of flowers with it on.
Puffed sleeve
Here is this fuchsia pink color again! Love the puff sleeves.
Cut out bodycon
A super sexy bodycon dress in a gorgeous lilac color.
Pink tie shoulder
This Shein summer dress is so pretty!
Floral halter
This dress reminds me of something I would have worn back in 2004 but it's back in style so who am I to judge?!
Floral midi
Loving this print and the length of this dress!
White textured cut out
This is a cool textured dress with fun cutouts.
Floral cami
A classic floral dress.
Tie dye ruffled
I have this dress and I am obsessed! I can't wait to wear it on vacation!
Tie front cut out
I have this dress too and I love it! It's so cute and looks exactly like the photo.
Striped maxi
I want to be walking in Greece wearing this adorable maxi.
Black flowy halter
You can't go wrong with a simple black halter dress.
Criss cross a-line
Super cute a-line dress!
Dalmatian print midi
A fun and funky print.
Funky print set
Ok so this is technically a set not a dress but I included it because I have this. It's cute and fun and different than what I normally buy.
Side cut out bodycon
Love the detail cut out on the side.
Neon tied wrap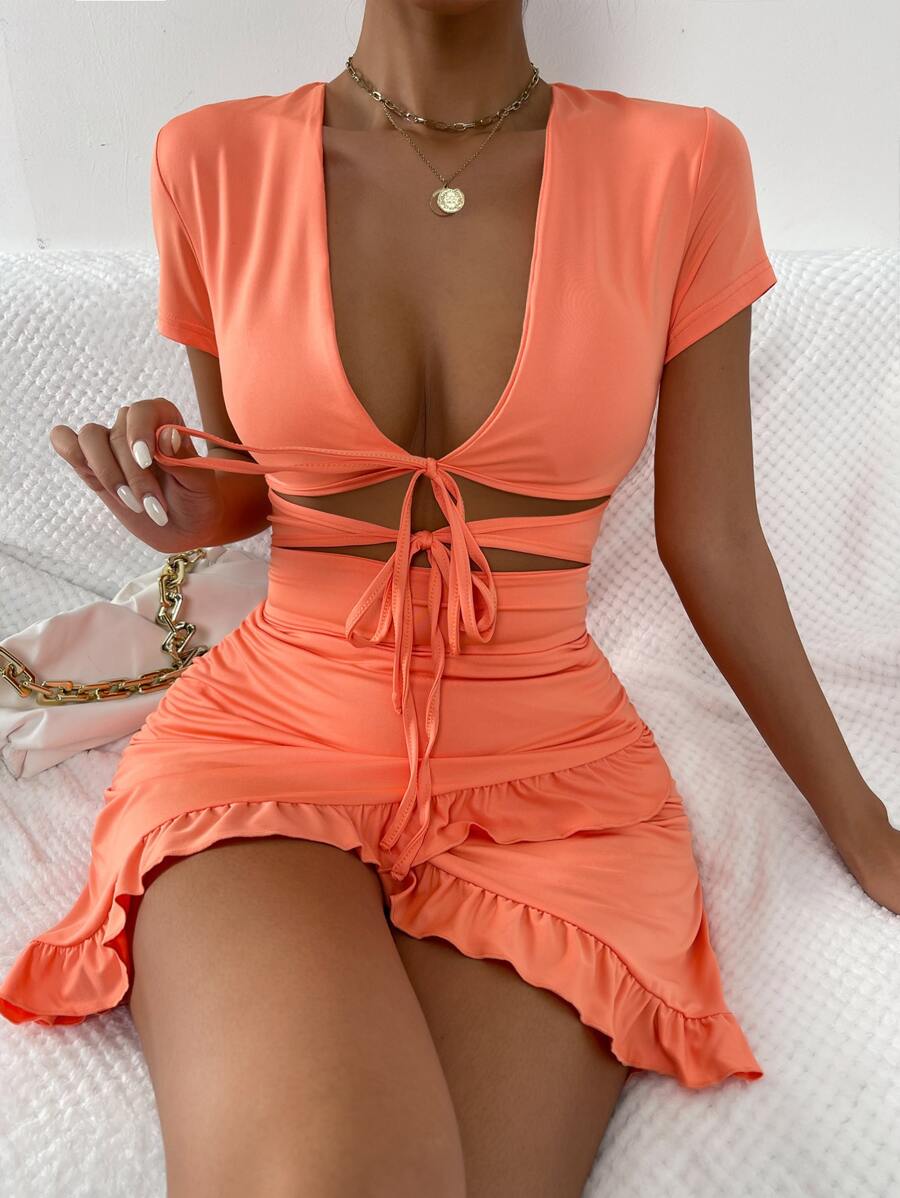 Wrap dresses are the best! I love the ties and cut out details on this one.
Tie dye bodycon maxi
A fun tie dye print.
Off the shoulder
Really loving this off the shoulder dress. I might have to get it for myself!
This post was all about best Shein summer dresses we are obsessed with in 2022!
Other Posts You May Like:
50+ Cute Shein Swimsuits You Need in Your Closet!
40+ Cute Summer Nails You Have To Try in 2022
30 Gorgeous Summer Wedding Guest Dresses 2022