Fun graduation party ideas for 2022 you have to try!
This post may contain affiliate links, which means I'll receive a commission if you purchase through my link, at no extra cost to you. Please read my full disclosure.
Graduation is one of the most pivotal moments in one's life. But what's even better is the graduation party!
There are a million different themes or cool ideas you can do for your graduation party this year. I put together the ultimate list of the best graduation party ideas.
RELATED POST: 13 Things To Bring To College You'll Actually Need 2022
Cute invitations
Invitations are the first thing people see when it comes to your party. After you have chosen your theme and color scheme you can get a super cute invitation like these!
Candy bar
Who doesn't love candy?! Set up a super cute candy bar like this one. I love the labels with the puns to go along with!
Display ladder
If your graduation party is more on the rustic side, this oversized ladder for decorations, desserts, drinks or photos is so adorable! 
Cookie bar
Everyone loves cookies. Create a super cute display of different types of cookies. Don't forget punny labels like "she's one smart cookie" to get everyone talking! 
Fondue station
Everyone loves fondue! You can really be creative and it will get everyone talking at your party! Set up a chocolate or cheese with tons of different snacks to dip in! 
RELATED POST- 15 Insanely Trendy Dorm Room Ideas 2022 You Have to Copy
Confetti balloons
Confetti balloons are so popular right now! They are such a statement decor piece. Get colored ones that match perfectly with your theme. 
Cupcake tower
Cupcake towers are so cool! It's super creative and different then your popular basic sheet cake. Not to mention cupcakes are much easier to pass out then cake slices. 
College themed
I love the idea of decorating for whichever school you are graduating from. So if your school colors are red and white, all the decor be those colors. Don't forget to include some cute college logos! 
Use your graduation year
An easy way to decorate and personalize your decor is to use the year that you graduated. There are so many cute decor pieces on places like Amazon and PartyCity with the year on it!
Advice cards
I've seen this before for wedding receptions but I think it's such a great idea for a graduation party! Have your guests write on notecards their advice for you as you enter a new chapter of your life! 
Themed drinks with cute labels
You can be so creative when it comes to drinks! I like the idea of using your school colors for drinks (if you can make a drink from those colors!) 
My friend who graduated nursing school had the CUTEST nurse themed drinks including red jello shots in fake syringes! Look online for themed drinks relating to your major! 
Mason jar centerpieces
Mason jars as centerpieces are the best thing ever. You can totally get creative with whatever you decide to put in them. 
Graduation year balloons
Those large metallic numeric balloons are so popular right now. Get your graduation year in those balloons for a perfect decoration. 
Polaroid guest book
I love this idea!! Have a polaroid camera at the party and pass it around to get priceless, unfiltered shots! Have everyone stick the pictures in a guest book with fun written notes.
Donut wall
Donut walls are so cute and the coolest thing! A fun way to display dessert. Here is a cute donut wall display from Etsy.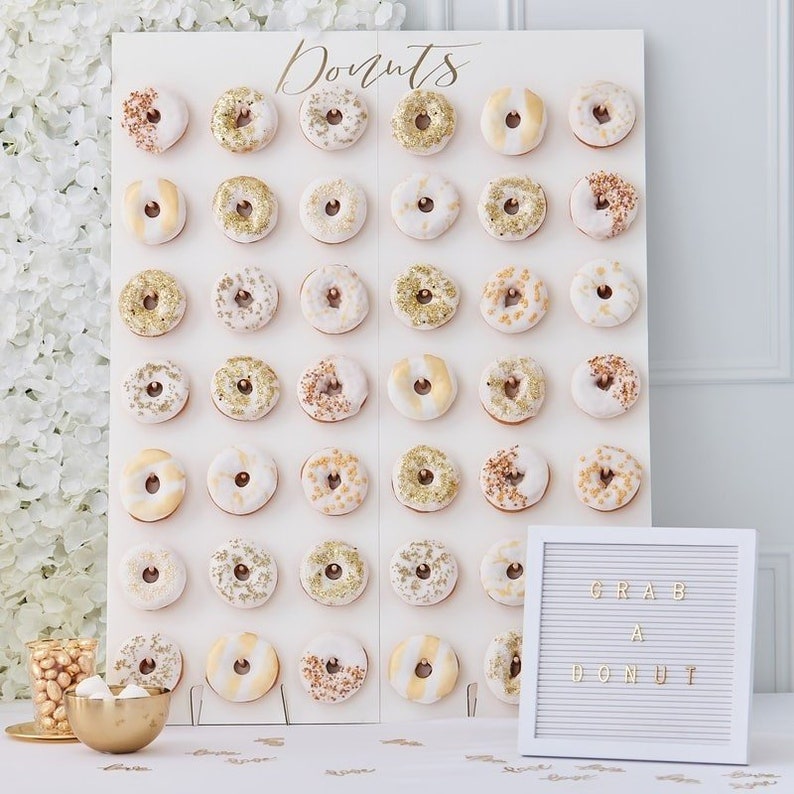 School picture display
Put together a cute banner or tape to a wall of all your school pictures every year from kindergarten on up. Show everyone how far you've come!
School customized desserts
If you're sticking with a school themed party, order desserts like cupcakes and cookies with your school logo and colors. 
Balloons 
Honestly, you can never have too many balloons at a party. Balloon garlands are huge right now and they are so beautiful! Not to mention a perfect photo backdrop!
This post was all about the best graduation party ideas for 2021
Other Posts You May Like:
The Best 2022 Graduation Announcements and Invitations You Need!
17 Best Backyard Graduation Party Ideas Guests Will Love!
The Best Graduation Gift Ideas Any Graduate Will Love