This post may contain affiliate links, which means I will receive a commission if you purchase through my link, at no extra cost to you. Please read my full disclaimer here.
71 Amazing couples halloween costumes ideas 2022
Halloween is right around the corner and it's time to start planning your costume! If you are planning on doing couples halloween costumes, I got you covered with an amazing list of ideas!
We know that you want to dress up with your partner or spouse! But how can you do this without it being cheesy? We've got the answer for you. With these cute couples halloween costumes, you'll be able to have fun with your significant other while also looking like a couple of superstars. These outfits are so cute that they're sure to get everyone talking about how adorable you two are. They're even perfect for couples who don't usually dress up together on Halloween, because they're not too over-the-top and they still feel like something that both people would choose individually. So what are you waiting for? Grab one of these sets now, and start planning out how you'll show off your amazing costume!
*RELATED POST* 37+ Sexy Couples Halloween Costume Ideas 2022
These costume ideas include couples Halloween costumes DIY for all those who like making your own. I also have couples Halloween costumes easy for those who may be on the lazy side (raises hand). This list has funny couples Halloween costumes and cute couples Halloween costumes. Basically this is the ultimate list of ideas, with 71 Halloween costumes for couples, how could you NOT find a good one in this list?!
Dressing up for Halloween with a significant other is so much fun! I have tons of costume ideas you can choose from. There's couples Halloween costumes celebrity, couples Halloween costumes from movies, and couples Halloween costumes homemade. Whether it's a pop culture couple, a spooky couple, or a fictional couple, you will be sure to impress!
This post is all about the best couples halloween costumes for 2022.
Peter and Wendy
You and your partner can escape Neverland in this cute fairytale themed costume.
NASA Astronaut and Alien
3, 2, 1, blast off! Head off to the moon with this awesome couples costume!
Minions
Grab these pair of overalls and dress up as these cute little yellow minions straight out of Despicable Me.
Monsters Inc.
This adorable couples costume idea is so cute!
Morticia and Gomez Addams
"They're creepy and they're kooky, mysterious and spooky….the Addams family".
This costume idea is perfect for a couple! A mix of sexy and scary.
Danny and Sandy
"Summer loving had me a blast, summer loving happened so fast."
Time travel back to the 50s for this adorable Sandy and Danny costume.
Michael Myers and Laurie from Halloween
If you are into scary this is the perfect couples halloween costume! It is so easy to replicate too.
Skelton heads
This is a very easy costume to recreate. You can really be creative with this costume and wear whatever you want with a skeleton face.
Doctor and Nurse
Did someone say they need a doctor? This costume is sexy and fun and scary.
Barbie and Ken
I'm a Barbie girl! Fun, cute costume!
Incredibles
A sexy little twist on this classic Pixar movie.
Playboy Bunny and Hugh Hefner
When I think of sexy Halloween costumes, I think of a Playboy bunny and Hugh Hefner.
Twins from The Shining
Now this costume is equal parts hilarious and scary.
Justin and Britney in Denim
Now this is an iconic look!
Lilo and Stitch
The cutest costume straight out of a Disney movie!
Hunter and Deer
Gone huntin a found myself this cute little deer.
Cosmo and Wanda
"Obtuse, rubber goose, green moose, guava juice. Giant snake, birthday cake, large fries, chocolate shake!"
A nostalgic childhood tv show memory unlocked with this cute couples costume!
Little Red Riding Hood and Wolf
"What big ears you have"
Recreate this fairytale story!
Chucky and Tiffany
Chucky scared the crap out of me as a kid, but this costume is so fun and scary!
Shark Boy and Lava Girl
Recreate this childhood movie with these awesome costumes!
Dead Bride and Groom
A classic and easy Halloween couples costume.
FRIENDS – Ross and Rachel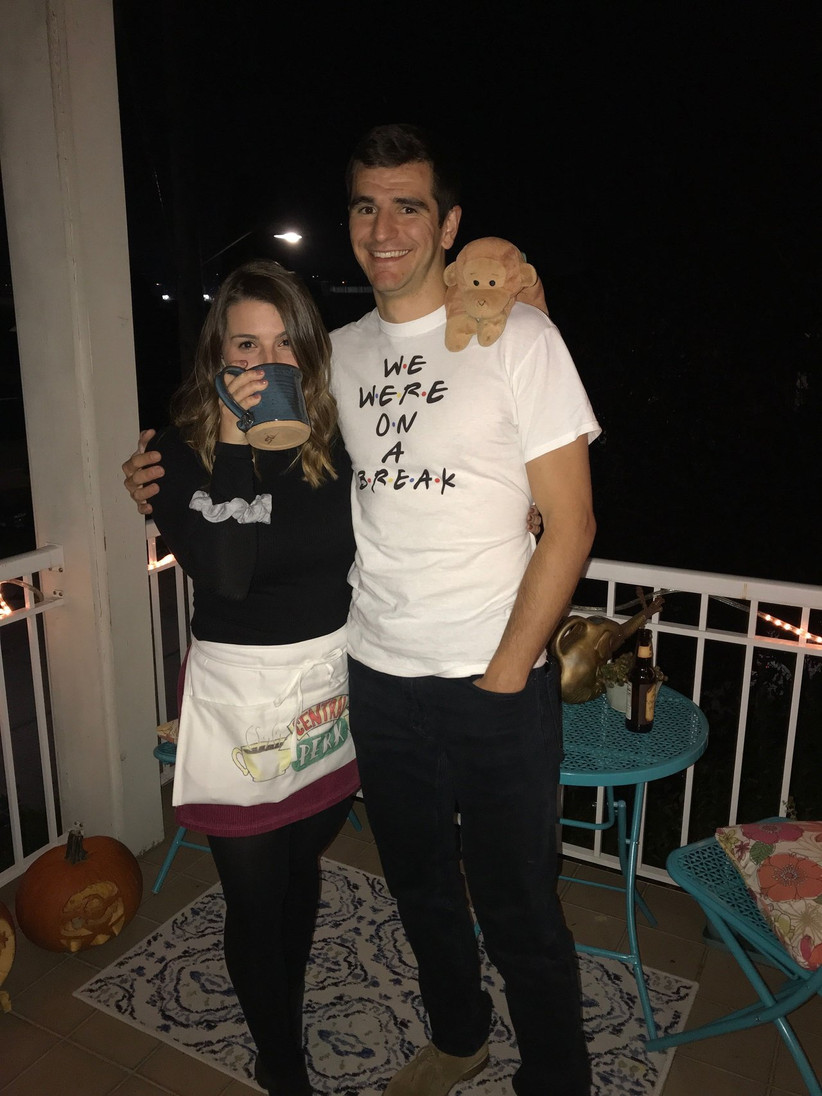 "We were on a break!!"
This is a super simple costume that is so cute!
Bloody
An easy costume to recreate!
Masked up
Another easy costume to recreate! Wear anything and just add red paint.
Princess Peach and Mario
"It's a-me, Mario!"
Dress up as these characters straight out of a Nintendo game!
Joker and Harley Quinn
Dress up as this sexy Harley Quinn and her "puddin."
Pulp Fiction
Dress up as these characters from the classic movie, Pulp Fiction.
Scooby Doo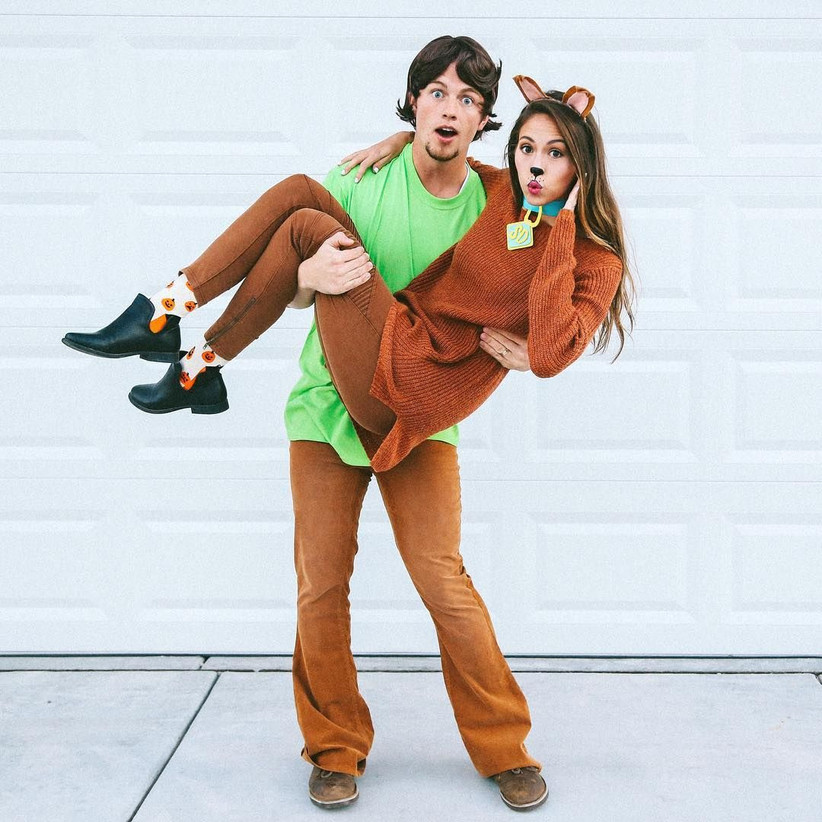 Such a cute couples costume!
Jack and Rose Titanic
"Jack, come back!"
Go back in time with this cute, romantic, couples costume!
Mummies
A super simple couples costume that is so cute!
Pennywise
"I am Pennywise, the dancing clown."
Equal parts scary, equal parts sexy.
Beetlejuice and Lydia
Dress up as this classic Tim Burton movie!
Cop and Inmate
You are under arrest in this super sexy police costume and inmate costume.
Medusa and Stone
You'll turn everyone to stone with this Medusa costume.
Luke Skywalker and Princess Leia
The Force will be with you in this cool Star Wars costume.
Nun and Priest
Bless everyone who looks your way in this super sexy nun and priest couples costumes.
Mr. and Mrs. Smith
This sexy duo is the perfect couples halloween costumes.
Cookie Monster and Cookie
This is a fun and playful couples costume idea that is so easy to create.
Jack Skellington and Sally
This is such a fun and creative costume to recreate!
Marry Poppins and Chimney Sweeper
You'll be looking supercalifragilisticexpialidocious in this classic Disney movie Halloween costumes.
Jasmine and Aladdin
"A whole new world, a whole new fantastic point of view."
Ride in on a flying carpet in this magical Aladdin and Jasmine couples costumes.
The Purge
"May God be with you all" with this The Purge Halloween costume. 24 hours of Purging begins at midnight.
Squints and Lifeguard- The Sandlot
"Remember kid, there's heroes and there's legends: Heroes get remembered, but legends never die."
A classic movie with an easy Halloween costume!
Mermaid and Captain
Go under the sea with this adorable couples Halloween costumes.
Forrest Gump and Jenny
Life is like a box of chocolate, you never know what you're going to get with this adorable Forrest Gump and Jenny Halloween costumes.
Woody and Jessie
You got a friend in me with this super adorable Toy Story costumes of Woody and Jessie
Clowns
Dress up as these creepy clowns for Halloween!
Beauty and the Beast
Tale as old as time, song as old as rhyme with this super cute Beauty and the Beast costumes.
Alien and Astronaut
You'll be out of this world with this NASA and alien costumes.
Pennywise and Georgie
You'll float too Georgie in these creepy Pennywise and Georgie costumes.
Frankenstein and Bride
"Beware I am fearless and therefore powerful" in this iconic Halloween costumes as Frankenstein and his bride.
Nerds
A pun of a costume dressed as both nerds.
Jake from State Farm and Flo from Progressive
It's Jake from State Farm..and Flo from Progressive. If you love those silly commercials, these costumes are perfect!
Bonnie and Clyde
The ultimate bandit couples Halloween costumes!
Lola Bunny and Bugs from Space Jam
Such a cute couples costume straight from Space Jam!
Superman and Wonder Woman
The ultimate power couples as these two Superheroes!
Operation Game
A funny costume that is a total throwback to the classic childhood board game, Operation!
Dalmatian and Firefighter
Such a cute and easy couples Halloween costumes!
Napoleon Dynamite
Take it back to the fan favorite movie, Napoleon Dynamite!
Sexy Dorothy and Scarecrow
Head off to the Land of Oz with this super sexy Dorothy and Scarecrow costumes! Just remember, there's no place like home!
Devils
Now these are some hellish sexy costumes!
Football Player and Cheerleader
Cheer on the team with this classic Halloween costume idea!
Flintstones
This is a super cute couples costume everyone will love!
Circus
Head off to the circus in this super sexy ringleader costume!
Pikachu and Ash
Gotta catch 'em all with these awesome costumes!
Day of the Dead
Honor Día de Muertos with these costumes!
Gardner and flowers
Water the garden with this adorable couples costumes!
Mickey and Minnie Mouse
Take a trip to Disney World with these adorable costumes!
Filter & No Filter
This is a hilarious costume that will have everyone laughing!
Egyptian Pharaoh and Cleopatra
Rule the Egyptian land with this amazing Cleopatra and Pharaoh costumes!
This post was all about 71 best couples halloween costumes for 2022
Other Posts You May Like:
69 Hottest College Girl Halloween Costumes That Will Turn Heads
The Cutest Spooky Basket Ideas for Girlfriend or Boyfriend 2022