This post may contain affiliate links, which means I'll receive a commission if you purchase through my link, at no extra cost to you. Please read my full disclosure.
Super fun outdoor graduation party ideas 2022
Graduation is one of the most pivotal moments in one's life. But what's even better is the graduation party! A backyard graduation party is just that much better.
Backyard graduation parties are so popular right now because of a few different reasons. One is of course the way of the world right now with the pandemic. Having a graduation party outdoors is better than having it inside at some banquet hall. Another reason is it is much cheaper! You do not have to pay to host it somewhere and you are in full control of everything from the decor to the food and more! Also backyard graduation parties that so much easier to have because it is all in your backyard! No need to transports everything to and from the parties destination.
There are a million different themes or cool ideas you can do for your outdoor graduation party this year. I put together the ultimate list of the best backyard graduation party ideas. This list will make your party planning a breeze!
RELATED POST- 13 Things To Bring To College You'll Actually Need 2021
This post is all about the best backyard graduation party ideas.
Photo walkway
I think this idea is soooo adorable! Get all of your school pictures and line the walkway with them. Glue the photos to super cute paper and wooden stakes to put into the grass.
Backyard set up
I think this is the perfect backyard graduation setup. With the circle tables you can really get creative with tablecloths and table decor. The string lights up above are just the cutest! When the sun starts to set the lights will look so beautiful!
RELATED POST: 15 Insanely Trendy Dorm Room Ideas 2021 You Have to Copy
Photo booth
This is the cutest photo set up! I love the balloons and the adorable quote in the back. Everyone will be talking about this photo set up. The instagram pictures will be incredible!
Cute decorated tent
It's nice to have a covered area like a large tent for shade from the sun, or incase it rains. You can decorate the tent super cute so it's not an eye sore.
S'mores station
A s'mores station is perfect for an outdoor graduation party!
Lawn sign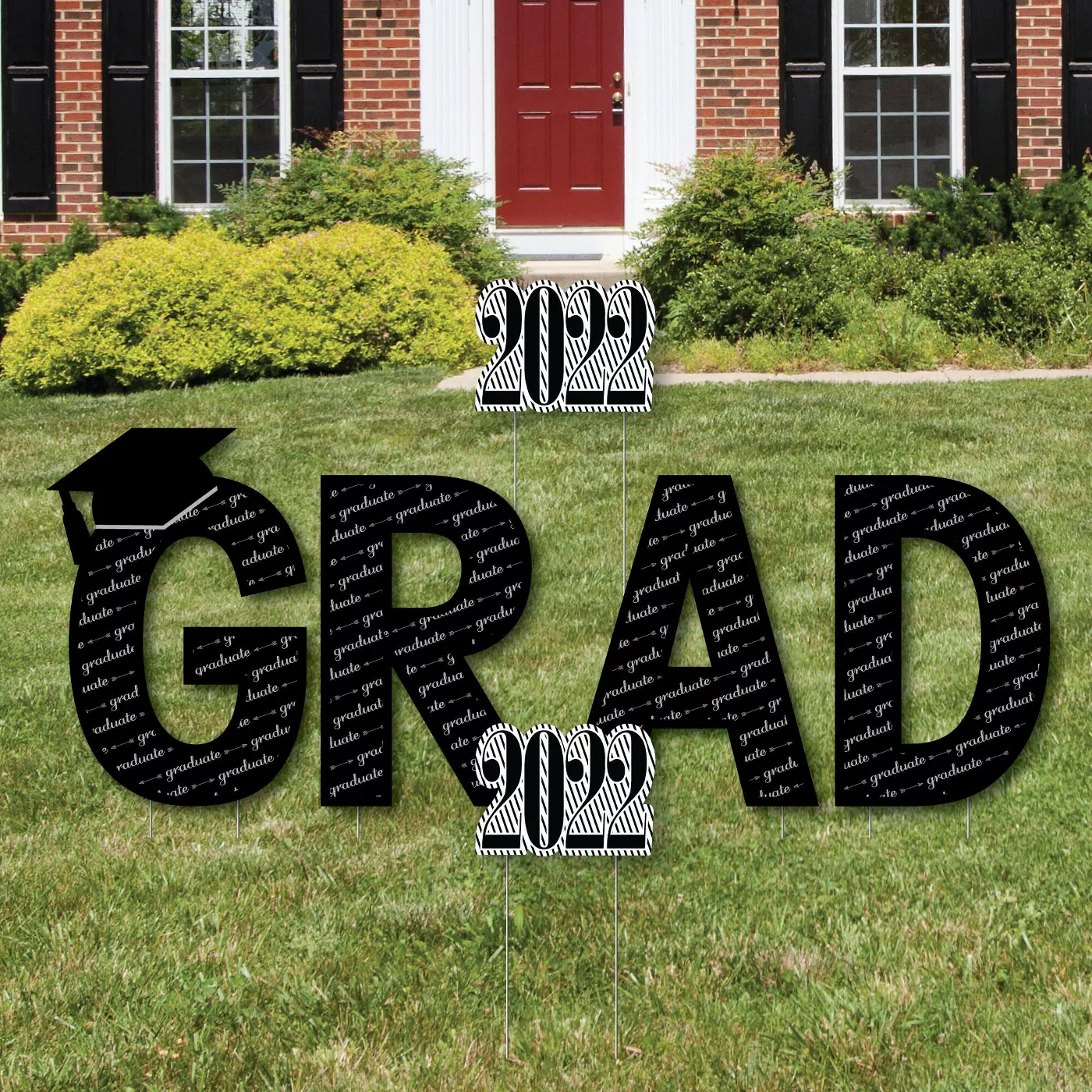 Let everyone know that your house is where the party's at!
RELATED POST: 15 Insanely Trendy Dorm Room Ideas 2022 You Have to Copy
Table centerpieces
I love this centerpiece with the book and the school colors. The fresh flowers are perfect for an outdoor party. You can get super creative with the centerpieces.
Cute alcohol table
This table that is just for the drinks is so cute! You can do a "make your own cocktail" table where your guests can mix and match, put in fruit, etc.!

Graduation year balloons
Those large metallic numeric balloons are so popular right now. Get your graduation year in those balloons for a perfect decoration. 
Large banner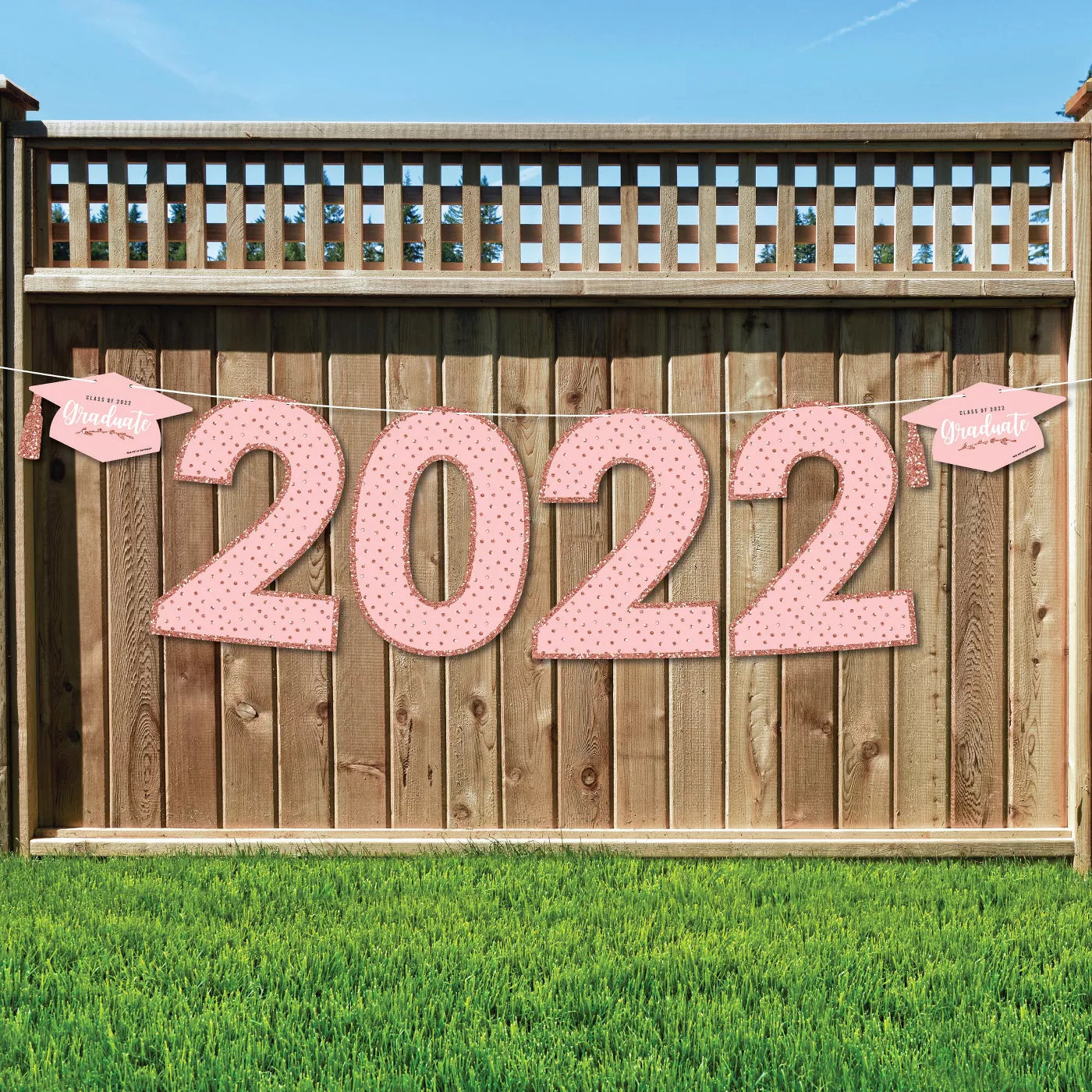 This rose gold 2022 banner is perfect to hang on a fence for your backyard grad party.
Outdoor themed invitations
Invitations are the first thing your guests will see about your party! Buy these super cute outdoor themed invitations from Etsy!
Tree photo display
What a fun and unique way to show off all your pictures throughout the years!
RELATED POST- The Ultimate College Packing List 2021
Balloon walkway
Lead your guests to the backyard party with this fun balloon walkway. I like the idea of using your school colors.
Donut wall
Donut walls are so cute and the coolest thing! A fun way to display dessert. 
Display ladder
If your graduation party is more on the rustic side, this oversized ladder for decorations, desserts, drinks or photos is so adorable! It is a totally different and fun look than your basic flat table.
Rustic centerpieces
Love this rustic themed centerpiece and the addition of the cute photos!
Rustic food menu
If you're sticking with the rustic theme, this is a cute idea to show your guests what is on the food menu.
Balloon entry way
A fun way to welcome your guests into your fun backyard party! With all the decor, try and stick with a color and a theme! Like I said before, school colors would be awesome!
Popcorn bar
A cute and fun way for your guests to get their snacks! Other ideas are a cookie bar, a fondue bar, a candy bar. You can really do a bar for any snacks LOL!
Creative guestbook
Such a cute idea! Have your guests write down their "key to success." This is so creative and unique compared to your basic guestbook.
BBQ food setup
This is a cute food setup. I love the decor and the way it is all lined up.
Backyard games
Don't forget your fun backyard games! Cornhole is one of my favs. This sign is adorable and from Etsy!
This post was all about amazing backyard graduation party ideas 2022
Other Posts You May Like:
The Best Graduation Party Ideas for 2022
The Best 2022 Graduation Announcements and Invitations You Need!
The Best Graduation Gift Ideas Any Graduate Will Love
15 Insanely Trendy Dorm Room Ideas 2022 You Have to Copy
The Ultimate College Packing List 2022
This post had the best creative backyard graduation party ideas!